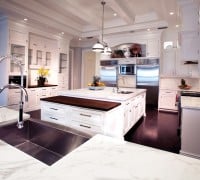 Anyone that has gone through the process of remodeling their kitchen understands that there are many crucial factors to evaluate and consider. The kitchen is the most expensive square footage in the entire home. So careful and patient planning can lead to the avoidance of either very expensive mistakes or ending in results that you regrettably must live with. This is not an outcome that anyone wants to experience after spending (investing) up to 20% of their home's value. Lets discuss how we can keep you focused on achieving the best results in your kitchen renovation project.
Kitchen Design Theme
There are many different design themes to chose from when you prepare a design for a kitchen renovation. The traditional practice is to create a design theme in keeping with the your home's originally designed. If you have a traditional home design or a modern home design, it is always a safe bet to remain true to the original concept.
With that said, it can pay big dividends to explore non-traditional theme influences to introduce alternative elements into your new design. For instance using an European sink front or an irregular shaped inland can add a unique signature statement to your kitchen. When you are browsing online or flipping through magazines looking for kitchens ideas, make a special note to identify these signature elements that catch your eye and try to work them into your new kitchen design for consideration.
Kitchen Products
There are varying opinions on where to begin the design process after establishing a general design theme. We like to start with the product selections. The kitchen products not only drive the budget but set the design perimeters. If you are planning on using the latest side by side refrigeration system or a oversized cook top, these items require supplemental products and special attention when preparing the kitchen layout.
The most important products to focus on is the cabinetry and appliances. These two products are also the most expensive products in the kitchen and can demand upward of 50%+ of the entire budget. Spend considerable time thinking how you store your cooking tools and your dishes / glassware. The cabinetry storage elements are a very important feature in the function and day to day use of the kitchen. Where you place your cooking tools has a huge impact on your movements and efficiency while preparing meals. The most frequently overlooked cabinetry storage features are accommodations for cookie trays, infrequently used stem ware, holiday dishes and special featured appliances.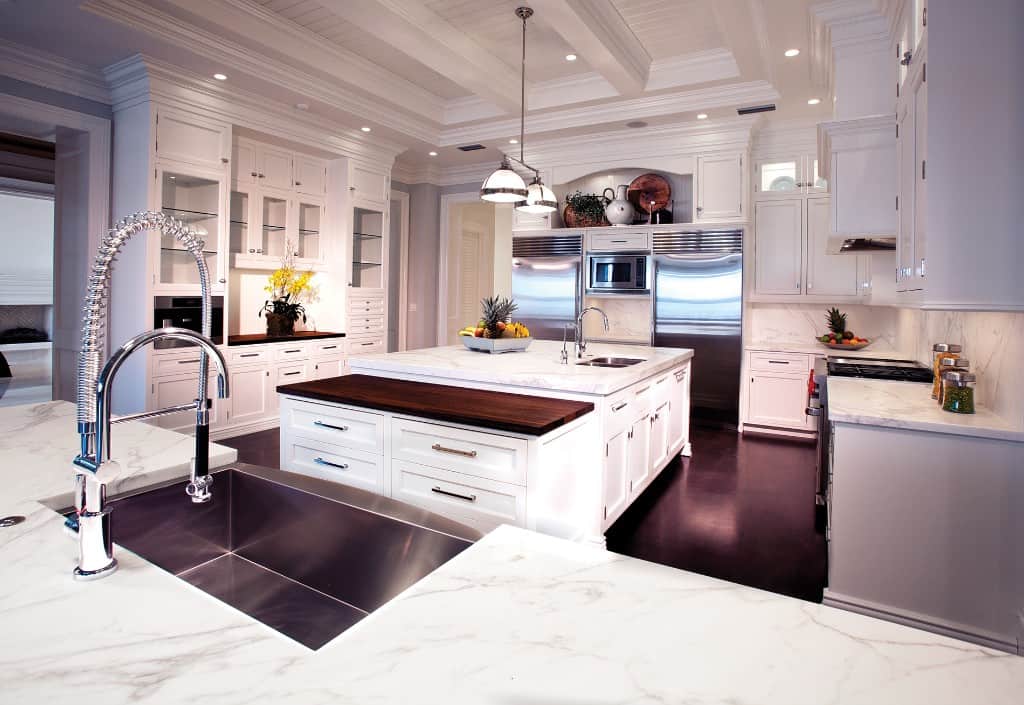 Counter tops, back splashes and flooring should be used to set the color continuity for the space. There are an infinite number of options and chooses for these products. These should be used to accent your design theme and blend with the adjoining areas decor. Today's flooring products allow for greater flexibility in selecting a desired look. There are ceramic tiles that look like hardwood floors and concrete counter tops that look like natural stone. One of the great benefits of today's manufacturing technology is that many of the products produced to look like trending products is that they reduce the cost and often solve problematic issues of popular products. For instance, wood floors are extremely popular in kitchen areas, but are very vulnerable to water damage from leaks or spills from normal usage.
Kitchen Layout
The most effective kitchen layouts begin with a well defined area triangle. The kitchen triangle consist of a food prep area, cooking area and the clean up area. The food prep area includes the food storage areas like pantries and the refrigerators closely assessable the area where cutting, washing and mixing task are conducted. The food prep task is often done on a inland cabinet, where there is a secondary sink for washing produce and disposing of trimmings.
The cooking area requires efficient access to cooking tools and cooking appliances. Pots and pans should be placed for storage close to the oven and cook tops. The cooking appliances should consist of ovens, cook tops, microwaves and warming draws. The cleaning area should be committed to the kitchen sink area and dishwashers.
The ideal concept of the design triangle is that if there were 3 people working each area of the triangle, they would not cross each other's path while carrying out their meal preparation tasks. As kitchens get larger the kitchen triangles get stretched and areas naturally overlap. Good kitchen layout design will minimize these overlaps paths.
Another common issue that can become problematic with kitchen layouts these days is while entertaining there is a natural migration of guest that gather in the kitchen. This is very common in large open kitchens that flow into open living area spaces. This has become an accepted gathering practice and should be anticipated and planned for. Introducing kitchen service high bars and oversized supplemental eating areas will accommodate these needs without limiting your preparation of appetizers or meals.
Focusing on these 3 elements will help you pay attention on effectively designing your new kitchen for your family's needs and for optimizing your homes future resale value. By taking your time and thinking through the details of how your kitchen can best serve your needs, an efficient and well designed kitchen will bring you years of pride and enjoyment as you take pleasure in and fall in love with cooking again.