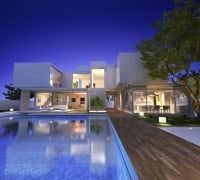 Your home is your castle is a term we do not here much these days, but really sums it up. Your luxury home is a mirror image of your lifestyle. Like the castles of the medieval periods throughout Europe reflected the stature and abundance of its owners, today's high end homes are little different. Location, size and access determines the allure that today's homes have on its admires. Decorating and trending ideas come and go overtime, but what sustains a high end homes intrinsic value are well planned features and improvements to your home that will raise the bar on the owners quality of life. Much like the castles of old when the owners would add a hoist to transport supplies to the upper parts of the structure, today's luxury home owners want to incorporate their favorite services enjoyed outside their home into the convenience of their own residence.
So let's examine some of the classic features and improvements that luxury owners seek for today's fortresses.
GOUMENT KITCHENS:-
This should not come as a surprise to anyone. High end kitchens are a must for the enriched enjoyment of your home. Almost every event involves the kitchens activities from family gatherings to entertaining a large crowd. So the kitchen needs to accommodate these demands. When planning your kitchen you should be mindful of the work triangle that a good kitchen offers. The prep area, the cooking space and the cleaning station. These areas should not require the need to cross through any of the immediate working areas of each station. This is tested during larger gathers when more than one person is working the kitchen.
The collection of appliances speak to the convenience and preparation of a well planned dinner. A second dishwasher, warming drawers and an ice making machine are absolute time savers for those holiday meals. Hard surface counter tops not only add elegance but also provide a low maintenance long lasting solution to an age old utility problem.
With the demand for higher ceilings, kitchen cabinetry are also getting higher and out of reach. Although this does not necessarily provide additional storage opportunity. Luxurious kitchen cabinetry has taken on a furniture like appearance instead of the traditional boxy look. Adorned by accenting moldings, built in lighting and built in appliances have transformed kitchens into the most important and expensive room in the home.
Picturesque Views:-
Owners want to be transcended outside of their daily grind when they are in the comfort of their own home. Owners want to be able soak in the spender of their home to refuel their soul. A picturesque view from the home's interior has become as important as the interior views. Albeit that most luxury properties in Houston are not located to view the ocean or a majestic mountain, your yard can be planned for a breath taking appearance. To accomplish this you need to understand your lifestyle needs and what winds your clock. To some it may be a beautifully sculptured garden, while to others it may be a specially designed pool and outdoor living area.
Planning these features is critical to achieving a seamless integrated extension of the homes design concept transference to the outside. The direction orientation of the homes view can also play a huge contribution to the appearance and overall impact such as viewing sunsets or the amount of direct sunshine specific plants might receive. Natural lighting can influence the interior of the home as well through accenting architectural features and interior paint colors. Windows have a enormous affect on the views and natural light that is allow to appoint your views and interiors.
Oversized and Volume Filled Rooms:-
One of the distinctions of histories luxury custom homes over time has been homes that contain oversized rooms with high ceilings that create a spacious sense of volume. Floor plans that role from room to room defining the function of the space with distinguishing architectural elements. Today's architectural features may be different then the affluent homes of the past in products and methods but good architectural design transcends time.
This is much easier to obtain these types of features when building your new home, but not unobtainable through well planned and executed design of an existing home. There will be limitations imposed by the existing structure, but with a seasoned and skillful design build team can capture most of the characteristics you are seeking for considerably less than the cost of a new one of a kind home.