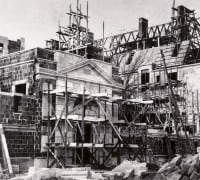 Most people think of modern day custom home builders as architects or experienced master craftsmen doing business as general contractors. Spending countless hours on the phone and stewing over construction plans, while their business requires them to wear multiple skill hats. In the span of 40 minutes current day luxury builders can have a conversation with their banker, lawyer, a client and a subcontractor. Each of these conversations requiring completely different communication skills. There are many similarities today between custom home builders of past generations and the new era luxury builders. There are also vast differences between past luxury builders construction processes and products then modern day general contractors.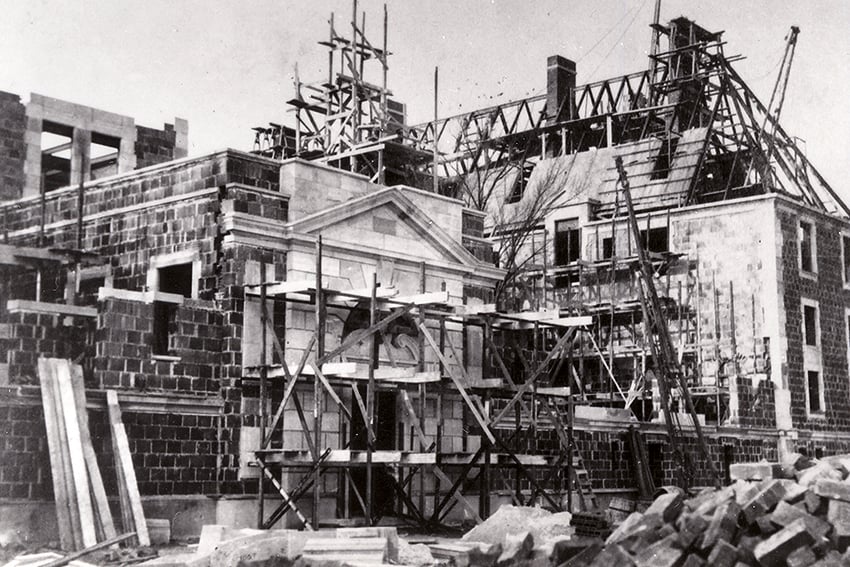 Historical Perspective
In order to adequately compare the historic differences of generational custom home builders, we need to return 60 to 70 years to the past. At the conclusion of World War II, many young GI servicemen returned home to take on a job and get married. There was a great demand for single family homes during this period. Levitt & Sons introduced the concept of production building to the home building industry with a home building business model referred to as Levittown. During this era home building made a paradigm shift in the industries methods and practices.
Up until WWII, a single family home was constructed by 3 to 5 separate skilled tradesmen and their crews. Carpenters would not only do the rough framing, but would install doors, windows, wood floors, millwork trim, hardware and roofing. The masons would contract all the stone, brick, block, tile and concrete work, while the electrical and mechanical disciplines would all be installed by the same experts.
A carpenter was usually the actual home builder and they would hire other skilled trades required the build the home. In many cases, the carpenter was actually performing the carpentry services required with self performing crews. In contrast, today's custom home builders principally conducts a construction management service in building homes. Much of the remodeling industry is self performed, but this is a lost art form in new custom home construction.
Suburbs and Land Subdivisions
Another significant factor of historical custom home builders that has come full circle in its evolution is the development of land and building sites. Historical home builders would buy tracts of land and design multiple home sites with streets and utilities, similar to today. This process would result in community developments that were commonly referred to as subdivisions (the legal division of a parcel of land).
To seek affordable housing prices, builders would purchase this land further away from the central business district. This practice over the next several decades led to a commonly used phrase called the suburbs. Shopping and schools were not far behind in the development of these communities.
Fast forward to the new millennium, this home building trend is reversing itself and there is a growing demand to return to the urban areas to work and live. The trend has developed into a concept of home site development called "Urban in-fill Lots". This is achieved through tearing down existing homes that have reached the end of their service life. The recent industry shift has led to smaller lots through subdividing and much taller structures as custom home builders develop 3 and 4 story homes to justify the higher land cost.
Technology and Innovations
As home prices have increased over time, so has the demand of consumers for greater choices of products and comfort. There has been many advances over the over the last 60 years, non more important than the advent of home heating and air conditioning. Central heating & air conditioning allowed builders to construct home locations virtually anywhere and provide the owner with great comfort.
Another significant innovation that has served the industry is through the product manufacturing industry. Lumber products have been created that will allow greater spans and reduce the number of load bearing walls in a floor plan. Other products like fabricated simulated natural stone components and casted / forged products have allowed luxury builders to capture architectural product features from the most prominent homes of the past. Ornate column capitals, detailed mosaic marble floors and fabricated granite counter tops once required to be hand tooled can know be fabricated in a matter of days.
As time has passed the industry continues to improve its standards through innovation and technology. These types of innovation advances have increased the sustainability of products and homes adapting to their natural environments. When hurricane winds caused massive destruction, industry experts answered with tougher engineering standards through structural member faster. When it was discovered that lead and asbestos were toxic, industry experts banned the use of these chemicals in the manufacturing of products. Technology has had a substantial impact of general contractors product home selections.
Custom home builders processes and methods have changed dramatically over the past 6 decades and the need for more the homes entitlements has grow as well. In recent times the demand for additional business skills required has also continued to develop, but the basic principles of a luxury builder remain the same. A solid fundamental understanding of construction principles and a honest passion for the craft of building luxury homes for their clients.