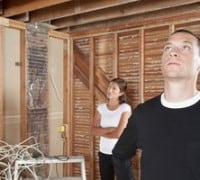 A Case Study :
This happens more often than one would think. When it does happen it raises stress and frustration to new extreme levels. Both builder and owner lawyer up and the finger pointing game begins. The unfortunate truth is that no one is going to win regardless of the degree of fault. The home construction or remodeling project is likely to dramatically slow or stop completely. The builders project cash flow will be interrupted causing issues with the material suppliers and subcontractors that get caught in the middle. The entire experience takes a financial and emotional toll of epic proportions on both parties.
So what went so wrong that it gets to this point? Well each builder's and owner's situation is unique, but there are some consistent patterns that become bell weather signs early in the relationship that often leads to this unfortunate outcome. Let me tell you a story that serves up many of the common ingredients that lead to this troubled experience.
This story starts with a man and wife wanting to completely remodel a high end home in a prestigious gated community. They purchase an older home that is in need of updating and make an extensive list of modifications that they want to make to the home. Mrs. Owner goes on line and picks out some extensive high end cabinets, stones and finish fixtures. She collects them on her phone. Mr. Owner composes a complete (or so he thinks) detailed scope of work to prepare bid documents. They hand sketch out some walls they want to move and try their hand at buying a software plan to prepare their plans for the kitchen and bathrooms.
They are both excited to get started on their remodeling project and Mr. Owner decides that he will start the demolition while they are completing the details of the design. So they hire a general contractor with the sketches and the list of detailed modifications that they have created. The contractor provides them with a proposal based upon Mr. Owners detailed list, Mrs. Owners pictures, and an allowance schedule prepared by the builder, that all interested parties then sign.
So they begin the project without any detailed blueprints or a building permit thinking that they can start the project without them and get them later in time. The first week the owners are impressed to see that there is great progress. The kitchen cabinets and appliances have been removed and the sheet rock has been stripped from the studs on the walls that require re framing. Work that the owners thought was going to take several weeks is done in several days and the remodeling contractor is in need of some the product specs to start laying out for the finishes . The Owners scramble to order and have materials delivered to the site.
The contractor is wanting to start the marble work in the bathrooms while they wait on cabinets. When the owner finally gets around to ordering the cabinets they selected, they are told it will be 8 to 12 weeks for delivery. But to the further disappointment to the Owners the cabinet company will not prepare the order until the cabinet shop drawings are complete and acceptance signed. They find out that this is going to take another 2-4 weeks.
If things are not bad enough, Mr. & Mrs. Owner are proudly walking their friends through the renovation project and discovered that their remodeling contractor has placed the wrong imported granite tiles in the wrong bathrooms. To add to this hysteria Mr. Owner discovers that the exotic mahogany inlaid marble foyer, that they intended to keep is now gone. She begins to emotionally melt down when both Mr. & Mrs. Owner discover that the expensive shower plumbing trims they selected do not fit the existing shower valves that have been covered with new granite wall tiles.
Mr. Owner immediately gets on his cell phone and speed dials his GC. After a heated and lengthy conversation Mr. Owner turns to his wife and tells her of his conversation. He emotionally explains to his wife, that their builder in so many words states that it's not his fault and that Mr. & Mrs. Owner will need to sign a change order and make payment to correct these problems.
Mr. & Mrs. Owner are faced with an to common dilemma for owners beginning major remodeling projects before they have properly prepared, in an effort to either save time or money. In this true story that I have shared with you (names changed to protect their identity), Mr. & Mrs. Owner's grief is at a critical turning point. At this stage this situation could get better or it can even get worse, depending what path the owners choose in moving forward.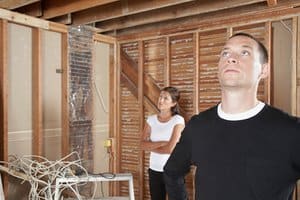 Mr. & Mrs. Owner begin to discuss their situation. After much deliberation, Mr. Owner decides to fire the contractor for all the misunderstandings and errors. He does not believe that he and his wife have any responsibility in this calamity of errors. He is not willing to pay for change orders and he believes that the contractor should have warned him of the possible risk of long lead times for materials. He firmly believes that the GC is financially responsible for removing the mahogany inlaid marble floors and that he will not pay him for work performed to offset the forthcoming expenses of the floor and the wrong granite tile in the bathroom. The GC as you might expect, contends that he was only following the Owners directions and that he has a contract that he intends to enforce collection and lien the project for any outstanding balance due.
With both parties at a stalemate as to who's fault lies with this mess, Mr. Owner begins to solicit alternative general contractors to bid completing his project. He still does not have plans or well defined decorator item selections documented. So as he randomly meets contractors at the project site, he begins to receive bid amounts as much as 40% difference. These bids are provided with various amounts of details defining the scope of work. Mr. Owner soon realizes that he cannot effectively compare these bids due to the fact that he has not established a common base line. Without home plans or product selections the task of comparing bid amounts is extremely difficult. The bidding general contractors have not included similar products and have not included work task that would traditionally been included for these specific line items. Mr. Owners immediate instinctive reaction is to go to the cheapest bid. Or as commonly referred to as leaping from the frying pan into the fire.
The end result of Mr. & Mrs. Owners saga ends badly. They do finally get their major remodeling project completed. Unfortunately it has cost them nearly 40% more than their original budget and a sizable attorneys bill. The project took nearly a year to complete what was originally scheduled to be a 5 month project and caused enormous disruption in their life extending their stay in temporary living quarters.
This was all avoidable from the beginning. If Mr. & Mrs. Owner would have just taken the time to get a complete set of plans and selected the products they wanted before starting the project, there would be a high probability that the original general contractor would have met their needs. By developing a room by room color board to communicate their product choices to their contractor, the Owner's would have likely avoided the mishaps of the wrong color granite in the bathrooms and the accidental demolition of the marble and mahogany inlaid flooring they wanted to keep.
Rather than aggressively reacting to the realization that the project had turned south and just stopped the project until they could work through each item to resolution, Mr. Owner doubled down and pressed further resulting in even greater complications and losses.
To avoid such an experience, you should follow these reasonable guidelines when preparing for a major home remodeling project in Houston;
Properly prepare for a remodeling project with detailed plans and product selections before you take project bids.
If you discover that the plans are flawed or that there is a delivery problem with a critical product you have selected, bite the bullet and make the proper adjustments instead of taking short cuts or unwarranted risk that could back fire on you
Have an open and thought provoking discussion about your goals and remodeling needs with several general contractors during the bid phase.
Use the insights of the all professionals to create the best possible project results
Select a general contractor as a working partner and a trusted adviser to your project. Hire for quality and character not just price.
If the project performance does not meet your expectations, slow the process down and evaluate the root cause and correct before moving forward again.
It is in everyone's best interest to negotiate out your differences with your contractor, designer then interrupting the entire project. This should be the last resort.
Most importantly, try to enjoy the remodeling project by developing a complete and comprehensive plan and executing your plan with the aid of a trusted remodeling adviser.