HOME REMODELING HOUSTON | HOUSTON REMODELING CONTRACTORS
Creating Sumptuous Surroundings through Fine Craftsmanship for Your Pleasure and Satisfaction
As full-service Houston remodeling contractors, Marwood Construction specializes in luxury design build remodeling and major home remodeling Houston. Home remodeling Houston is an art form that requires the careful blending of product updating and spacious planning with the existing surroundings to create a seamless transition between the existing and new space. This process can create many unwanted surprises and challenges during the duration of the home remodeling Houston. Our approach in proactively anticipating surprises is to cautiously qualify both collaborating parties and vet the existing home plan with the clients' expectations to determine if we are the best fit for your remodeling needs.
Through a systematic process we determine our clients design requirements, space and structural limitations and budgetary boundaries to assist them in a careful evaluation of your desired renovation. This consultation was created to provide our clients with a road map to navigate their home remodeling Houston journey. There are numerous complexities and risk to the home remodeling Houston experience. We understand that this is a little like a required quality of life surgery. No one is excited about the elective surgical experience but rather focused on the end results.
As quality Houston remodeling contractors, we conduct our clients' home remodeling Houston experience as a collaboration effort directly involving our seasoned renovation experience with your imagination and lifestyle wish list. Our responsibility as your home remodeling contractor and trusted adviser is to guide the process through design and conduct a painless and hassle free experience during both design and home remodeling improvements.
Our Commitment
To you our customer, we will do our best to eliminate as many of the unpleasant surprises as possible and provide you with the home transformation that reflects your coveted lifestyle. Our process will result in greater personal comfort while increasing your home 's value. Our goal is to offer our client an enriched design and planning experience that results in a unique home remodeling experience expressly defining their lifestyle.
Our genuine effort to accomplish this goal is to prepare your home remodeling project through a design build collaboration resulting in a revitalization and repurposing of your existing home. We intend to remodel your home better then you have ever imagined, at a price you expected, while adding value to your lifestyle. The remodeling improvements are achieved through meticulous planning that minimizes the inconveniences caused by the interruption to your life during your home remodeling Houston.
Marwood Construction strives for excellence by demanding more of ourselves than our clients do. We want your business and we want you to tell others about us. We are committed to excellence and will create something you will be very proud of.
Our Vision
To share our years of experience and required craftsmanship with our clients in their pursuit to substantially improve their home to reflect their pleasure and satisfaction of the lifestyle they have achieved in a professional and predictable manner. To earnestly offer our painstaking guidance through a genuine effort to make our clients experience a pleasant and worthwhile endeavor.
To provide our clients with a meaningful experience that captures their imaginations intent while resulting in the creation of an exceptional master crafted finished product. It all begins with our Company's commitment and vision that results in your unparalleled home remodeling experience.
Quality Home Remodeling Houston Featured
Major Houston Home Remodeling
The process of removal of the existing homes finishes back to exposed framing for the purpose of redesigning, product replacement and enhancement of homes value. The major remodeling method, also known as whole house renovation, increases the service life of the home while adding comfort, function and restoring the beauty to its natural design.
This home remodeling practice benefits homeowners who love their home and want to remain in their immediate location, but want the benefits of new energy efficient products and enjoy the substantial reductions in maintenance cost requirements of an aging home.
Kitchen Remodeling
Kitchen remodeling is required for homes of 15 to 20 years of service life if you want to maintain the increasing value of your home. The older the service life of the original kitchen components the greater the need for a full kitchen replacement. There are many different levels of kitchen remodeling that can be executed by your Houston remodeling contractors. Many of these kitchen remodels do not require the services of a general contractor. Appliance replacements, counter top replacement and floor and backsplashes can be replaced directly through a specialty replacement contractor.
Kitchen remodeling projects that require the redesign of the kitchen layout and complete replacement of kitchen components should be executed by general contractors with kitchen remodeling experience. The creation of kitchen remodeling ideas is the catalyst in developing a well design kitchen and requires a great deal of research and planning. An skillful seasoned kitchen remodeling contractor will guide the owner through the kitchen remodel process effectively saving money and minimizing mistakes.
Bathroom Remodeling
Marwood Construction provides you the standard of craftsmanship and distinctive design that help us stand out in the crowd. We will take care of your scheduled necessities and budget requirements. Marwood Construction wants to be your choice as a bathroom remodeling contractor if you desire a complete bathroom remodel or a major design change of your bathroom.
Much like kitchen remodeling there are many levels of required bathroom remodeling. Bathroom product components can be replaced or upgraded over time without the need of a general contractor. Bathroom product replacements components such as plumbing trims, toilets, counter tops, mirrors and shower enclosures can readable be replaced by specialty replacement contractors.
Home Additions
If expanding the home's envelop or converting the space, Marwood Construction will provide you the optimum design to maximize your lifestyle reflected in your home. Our goal is to create a seamless transition that provides functional design and an esthetic value that translates into greater home value for you.
Home additions and room additions require a good deal of research and planning before commencing. Careful assurances are required in researching deed restrictions and boundary surveys to determine the feasibility of a home addition. It is not uncommon to be required by your community to submit preliminary plans for approval prior to submitting for a building permit.
The most challenging aspect of a home addition or room addition is to create a seamless continuity between the existing space and the home addition. Marwood Construction painstakingly strives to make home remodeling Houston home additions visually appear as if they were part of the original home design.
Historical Restoration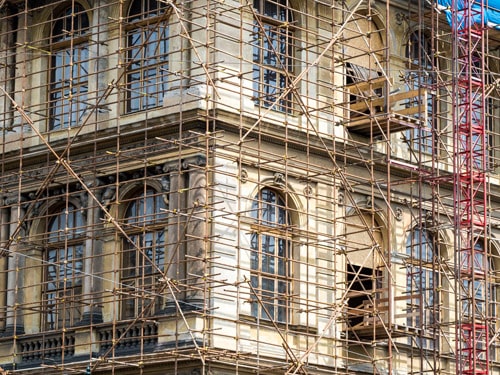 Historical Restoration and preservation is the practice of blending new design and product technology with the historical rich character that many older homes possess. By carefully removing, restoring and reconstructing the details of the structures products and detailed features, we are able to capture and improve the distinctive elements of the original architecture.
The exterior restoration may consist of the delicate removal of exterior components for restoring or re-fabrication. By using today's technology we can use this opportunity to improve the structures integrity and increase the sustainability of the home through energy efficient practices and waterproofing methods that will enhance the homes preservation.
During interior renovations, we will incorporate the energy efficiency and universal design practices of today, while capturing the charm provided by the essential historic component details. This could involve restoring molding pieces, reconstructing doors or re-fabricating cabinet features to compliment refurbished fixtures and hardware. Often it is a blending of new products with the attraction of the historic features.
Whatever your Houston home remodeling or restoration needs are, you can trust Marwood Construction as your Houston remodeling contractors. We will provide you with the expert guidance in realizing your renovation goals as your home remodeling contractor.