Elegant Bathroom Remodeling and Renovation In Houston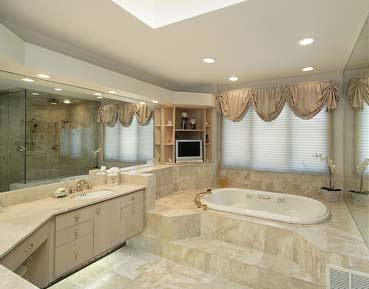 Marwood Construction is Houston's leading luxury home-building and remodeling professionals. One of our many specialties is providing luxury bathroom remodeling and a complete bathroom renovation, approaching every project with our attention to detail and uncompromising level of craftsmanship.
The bathrooms in our homes serve many purposes, but are the most personal space in the home. Homeowners use them every day for personal hygiene as well as for personal time relaxation. It makes sense to have a bathroom that fulfills your needs. Our experience and level of quality have made our company the trusted bathroom remodeling contractor in Houston, Texas.
Benefits of Bathroom Remodeling
Remodeling your bathroom is always an exciting task. Bathroom remodeling projects can take on many forms, from sleek, utilitarian spaces to sumptuous, sophisticated rooms that reflect your personal style. A Bathroom renovation is more useful when the required decor and products need updating. Often it's required to replace plumbing pipes during a bathroom renovation. Besides making your bathrooms more enjoyable, remodeling these rooms can have several important benefits, including:
Adding value to your home – Many bathroom remodeling projects help in generating more resale value than you can imagine. Buyers want homes that do not require substantial updating when they move in.
Improving function – By upgrading a bathroom, homeowners can enjoy a better use of the space and improve the way it performs. The new materials and projects can have a solid impact on your safety without compromising beauty.
Creating a personal retreat – After a tough day at work, owners deserve a spa-like bathroom where you can wash away the stress of the day. We are committed to your comfort and lifestyle pleasures.
Improving efficiency – By adding the latest technological advancements in fixtures and lighting through a bathroom remodeling or bathroom renovation, homeowners can save water and energy costs. Such green initiatives are great for the environment and prolong our natural resources.
Adding your own style – Stock, bland bathrooms do not offer much in the way of style. By revamping these spaces, you can bring your own personal style to life with the help of Marwood Construction's remodeling expertise.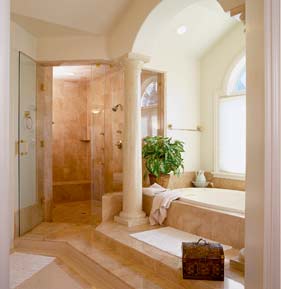 A Personalized Process for the Bathroom of Your Dreams
Marwood Construction is committed to excellence in every project we undertake. The first step in any project is to evaluate your specific needs and desires.  We use a systematic approach toward determining your requirements, your budget, and the structural limitations of the bathroom in order to formulate a remodeling plan that works for you.  We listen closely to our clients, helping them to create a bathroom renovation that serves their needs and represents their accomplished lifestyle. A bathroom remodeling can come with its share of challenges. So our dedicated team is always available for consultation and insight throughout the process. It has made our company the premier bathroom remodeling expert in Houston, Texas.