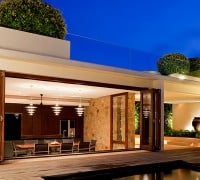 Modern homes have many different meanings to different groups. There are three very different characterization of modern homes. The first depiction is being used as the expression of an architectural home design style. In second representation, folks will use modern homes to reference interior design home enhancement amenities. Modern homes can also be used in context of a time period of home designs. To add to the referenced confusion, these time periods could also be used to depict a past or future tense of design. If architectural modern home design appeals to you or not, it captures peoples imagination and conjures up thoughts of the old cartoon "The Jetsons". The beauty of simple but elegant form design can leave one in utter silence as we absorb its superb presence.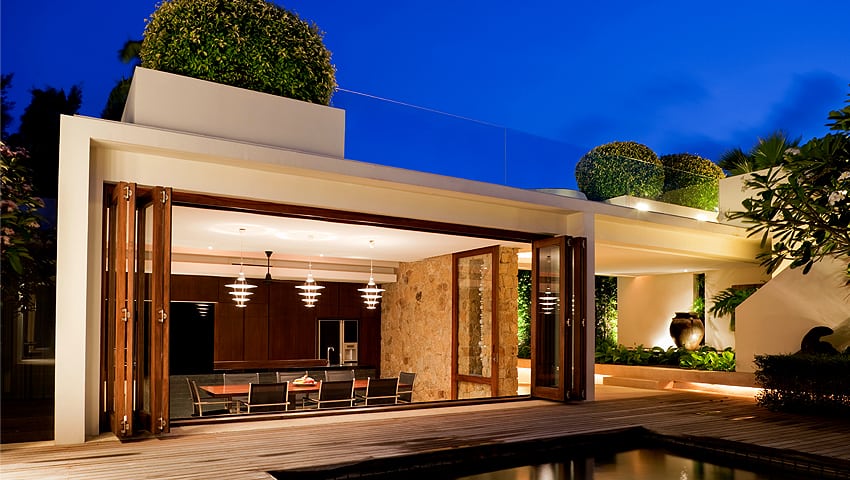 Architectural Modern Homes
The most strict characterization of modern homes is the architectural definition. A modern home is typically referred to as a post and beam house structure that has either a flat or shed like roof structure. They are frequently open structures with an abundance of fixed glass to allow light to illuminate the interior and allow the surrounding landscape to become an extension of the interior. The two common versions of modern homes is the classic modern home and contemporary modern homes.
The classic modern home is often referred to as a mid century home, because it was so commonly built during mid 1930 – 1960 periods. This style of design is association with the use of many natural materials like stone and wood. The color schemes for these homes are often shades of whites and very earthy color tones which compliment the natural material color shades. The most common version of modern homes in Houston are the one story ranch homes. These homes reflected vaulted ceilings from a simple gable roof line and an open floor plan for the living areas.
The contemporary homes are a current adaptation of the classic modern home. These structures are currently built with steel columns instead of wood columns and engineered beams instead of nominal sized wood beams. Contemporary homes are also constructed of many energy efficient products that were not available 50+ years ago. Large insulated windows, stainless steel railing systems and uniquely shaped structures are benchmarks for contemporary modern homes.
Interior Design
Other then the fore mentioned architectural design features of modern homes , the contemporary interior design has very distinctive characteristics. They commonly feature sleek and uniquely shaped furniture pieces consisting of polished metals legs and feet. This gives the furniture a sense of floating. The interior design furniture pieces are commonly small in profile and simple in form. This allows the eye to be drawn to the architectural design instead of the interior design and give the space a sense of volume.
Contemporary modern homes interior design is greatly enhanced when art collections are used to compliment the space. The large areas of glass and wall space make for a wonderful backdrop to dramatically stage the art pieces statement. The use of the whites and earth tone wall colors are the perfect surroundings to elucidate the artist images. As daytime turns to nighttime the strategically placed incandescent lighting takes stage changing once again the persona of the interior design space and features.
In most cases with the interior design of modern homes the decorating is usual intentionally understated, characterized by simple slab paneled cabinetry, minimal hardware, oversized windows and smartly placed transoms. The focus is on the texture and personality of the natural materials used to clad both interior and exterior of the home.
Current Modern Home Trends
Over the last 10 years contemporary homes have made a resurgence in Houston. As home and land prices in the close in metro areas of Houston have steadily increased, both designers and builder have been required to build vertically. New home construction in metro Houston have climbed to 3, 4 and 5 stories to optimize the value of the land. This increases the density of homes that can be build on a specific lot, where by reducing the actual lot cost attributed to the home.
Contemporary homes are a very popular answer to these rectangular box structure designs. This type of construction is enhanced further by many of the new engineered structural products that allow for greater room spans and cantilevered floors and balconies. These vast open spaces complimented by high ceilings make for a natural recipe for interior design for contemporary homes.
There is likely a long and trending future for contemporary homes in Houston for the coming years. The simplistic but majestic influences of modern home design in Houston or elsewhere makes for a viable solution to escalating home construction cost. With the popularity of exposed stained concrete floors and ever increasing demand for natural stone use in new home construction, contemporary modern home design will continue to evolve and take its place as one of the most desired architectural design styles in the future.